Shopping Cart
Your Cart is Empty
There was an error with PayPal
Click here to try again
Thank you for your business!
You should be receiving an order confirmation from Paypal shortly.
Exit Shopping Cart
| | |
| --- | --- |
| Posted by johnnieraz on February 4, 2017 at 5:20 PM | |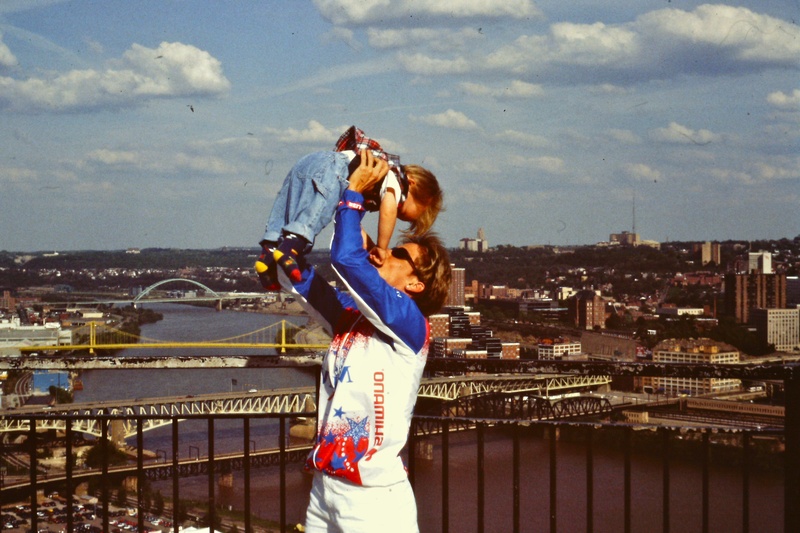 Linda Brennemann with her son Benjamin on Mount Washington in Pittsburgh, 1995.
EDITOR'S NOTE: As I celebrate the 2nd anniversary of publishing, this excerpt from my book "A More Simple Time: How Cycling Saved My Soul" tells how it all started, when I went to a local race at the Ziggurat in Laguna Niguel to start learning about bicycle racing in 1989.
Perfect introduction
    The secret culture of cycling lives in the local races. Pause for a moment and envision an industrial park near your house that is a virtual ghost town on most weekends. Wide, well-paved streets without traffic. My bet is that it is hardly a ghost town. It's cycling nirvana.
    In Orange County, that place is known as the Ziggurat in Laguna Niguel. The county building looks, you guessed it, like a Ziggurat. That's where the local hotshots get together for races. It's nothing more than an adult version of a neighborhood challenge. Draw a line on the street. Line everyone up. Yell go! The magic begins.
    They have these training races in the raw once a week — usually on Tuesday nights. About every four to six weeks, a local promoter gets off his bike and grabs a clipboard. A couple of other enthusiasts park their bikes and put on officials' jackets, with real USA Cycling Federation patches. Instead of one huge free-for-all race, they meet on Saturday or Sunday. The contestants group by age and skill level. They pin numbers onto their jerseys. A real race evolves. Heck, even the wife and kids come out and run around in the sun. They have a guy who shouts into a PA system and plays loud music. Somebody shows up to sell T-shirts and jerseys. You can usually buy fresh organic bakery. They even roll in Port-a-Potties, although never enough.
    I headed to the Ziggurat for one of those races to begin my real journey into the world of cycling. That's my style. While my high school pal Bud Geracie jumped from the University of Wisconsin to The Associated Press covering the Brewers, I went grass-roots from the University of Wisconsin-Whitewater to a small daily newspaper in Fort Atkinson as a do-it-all sports editor (that is, write stories, take photographs and layout the pages). I worked my way up, learning the essence of my trade. The same was true with cycling. I could have just waited for a big one to taste the high life. But, that wouldn't be me.
    So I watched the races unfold with a handful of spectators. This wasn't the spoon-fed pack journalism that pro beat reporters know. There would be no official play-by-play typed up and handed to me at the end of the race so I could refer to key moments. There would be no rider bios in a media guide, to allow me to delve into background stories unless I did the digging myself. No compilation of post-game quotes to refer to. No official press conference afterward, nor a Sports Information Director or head of Media Relations to track down an athlete for an interview. Heck, there weren't even any rosters or scorecards. Just a couple hundred cyclists racing around with numbers pinned to their jerseys. When each race ended, the officials scribbled the numbers in order of finish on a sheet of paper taped to the side of a trailer.
    What there was, however, was quintessential athletics. No hype, no pomp, no circumstance. Just pure, unadulterated athletic competition.
    To be honest, there was something else that set these races apart from the weekly sprint fest. The promoter would shell out a few bucks afterward. Maybe $100 to the winner of the main event. Or new tires. Or a box of energy bars. Or new water bottles. Not enough to get rich, by any means, but enough to make someone feel appreciated. I suddenly realized I had a lot more in common with these folks than I knew. I could remember the mantra from journalism professors in college: You'll never get rich doing this. You have to do it because you love it.
     Oh, man, I was loving it. I was sitting under the warm Southern California sun, hiking around the course over and over again, studying how the riders took corners, where they attacked, where they let up. My active role in pursuit of my story was nothing new. I thought about the countless Friday nights covering high school football, when I would ply the sidelines, marching up and down, alongside the players and coaches, soaking in the reality of the event — and sometimes soaking in the rain, or even, at times, snow. My hands so numb I could barely keep my notes. My ink running together. My hands shivering. Then I'd look at my competition in the press box. Warm and cozy. Sanitized. The next morning, guess whose story captured the true essence of the game in a way no one could ever really put their finger on?
    I looked around this new world of bike racing and wondered where in the hell those "real" sports journalists would plant their fat asses, waiting for the victors to grace them with an interview. There was no such place. That, more than anything, let me know I'd found home.
Perfect timing
    The elite women were the first category of note — that is, category that I would focus on and write about — to finish their race. No one had any idea there was a reporter on hand to record the proceedings. As I'd find out over the years, even armed with such knowledge, cyclists had a tendency to disperse like cockroaches when a light flicks on when the race is over. As the women screamed across the finish line in a blur of colors, I managed to write down the top five numbers and make a photographic memory of the jersey on the winner. The search began.
    Suddenly all the jerseys looked the same. All the women looked the same — shiny helmets, great tans, dark sexy sunglasses and bouncy ponytails. Finally, my luck struck. There she was. The winner.
    I hurried over and introduced myself. She smiled with more than a hint of embarrassment at the attention. Great timing. Breathing heavily, sweat trickling down her cheeks, she drank from her water bottle.
    "Hi. I'm John Rezell, from The Orange County Register," I said, offering my hand.
    "Linda Brenneman," she said, returning the gesture.
    I began to pepper her with questions about the race. She smiled and took her time with her answers, pausing to watch me scribble in my notebook.
    Red alert!
    The moment that happens — when the interviewee becomes consumed with watching what I'm recording — her spontaneity would disappear. Time for my secret weapon.
    Over the years, my endless scribbling in the notebook became second nature. So much so, that I don't have to look at what I'm writing. So I went to stealth mode, refusing to drop my eyes to my notebook. She threw me a double-take the moment she realized she was the only one looking at the notebook now. She flashed another smile, and along with it a sparkle of respect in her eyes. She took another long drink from her water bottle, kind of sizing me up. I could tell she thought to herself, "Hmmm. He's done this before." I could read in her eyes that she had done this before, too. The feeling was mutual.
     We talked for a healthy 10-15 minutes as I milked the energy of the moment. This is what I loved about real journalism. The moment. This is when a journalist captures the essence of athletics. When an athlete's heart-rate pounds feverishly. When the endorphins and adrenaline surge throughout their finely tuned systems. This is the moment television often attempts to capture, but often fails to do so, simply because the athlete suddenly has a microphone and a camera unnaturally shoved in her face, and the reporter blabbers something that only remotely resembles a question, much less an insightful question. This is the moment that sports writers sitting in mass press conferences never see, unless they are watching the video feed as their way of "covering" an event. They're usually digging into the buffet one last time before heading down to the conference room to talk to the athlete after a cold shower.
    The interview ran its course. She caught her breath. Then I needed to get back to square one. The basics. Linda with an "i" or "y"? How do you spell Brenneman? Where do you live? How old are you? What can you tell me about your career?
    "Well," she said, her eyes laser-locked on mine as to not miss my reaction, "I'm a member of the U.S. National Team. Last year I raced in the women's Tour de France ..."
     She didn't have to be looking at my notebook to know that my pen froze. A smile crept across her face. An invitation into her world. We talked for nearly another half-hour, much of it revolving around my explanation of what I was doing at a local bike race, the necessity to become an expert, and all. Then I heard the muffled megaphone in the distance calling the Pro 1-2 men to the starting line. I got her phone number and promised to follow-up and keep tabs of her progress. She thanked me for my time. I could see from her warm smile and sparkling eyes, she meant it.
    The men's race seemed to blow past in an instant. There were so many attacks and counter attacks, breakaways and chases, bursts and lulls, that I began to run out of room in my notebook. By jotting down every little move, however neurotic, I got a firm grasp of the mechanics of a race. The magnitude of the action. A marathon comprised of countless 100-yard dashes.
    In the end, in the final sprint up a short, and not very steep incline, a dude with golden Southern California locks dancing from beneath his helmet dashed to the front and won the race. Again, I scribbled the number down. Tried to remember the jersey. I embarked on the ultimate "Where's Waldo" mission.
    It was the last race of the day. A stampede heading to the parking lots known as Southern California freeways. Then, amazingly enough, there he was.
    I rushed over. Once again ...
    "Hi, I'm John Rezell, from The Orange County Register," I said.
    "Hello, John Rezell from The Orange County Register," he said, almost mocking me. "I'm Steve Hegg."
     Without missing a beat, I jumped into a question about the final sprint. He looked at me, then glanced around to see if there were any witnesses to this bizarre scene. He shook his head for a moment, then indulged me. He spoke with passion and excitement. All along the way, he dropped in tidbits about the nuances of bicycle racing, pausing momentarily to see if I'd flinch. I didn't. I simply absorbed the energy of the moment.
    I began to realize that he feasted on that energy, my determination to let the moment run its course. His love of racing bubbled forth like champagne spilling over the edge of a glass. No container would be big enough to handle his outburst.
    He went on and on, dissecting the race, almost moment-by-moment, the way a professional golfer sits at a table and recounts his round for the fat-ass sports writers who were even too lazy to watch it on the TV monitor, much less hump around a course for a few holes and burn off some of the press-room donuts. He'd mention a move mid-race, and since I had noted it, I knew exactly what he was talking about.
     When he finished, and his heart-rate stabilized, he took a drink from his water bottle and began to pack up.
    "Thanks for coming out, John Rezell from The Orange County Register," he said, offering his hand with a sincere gesture. I could tell he, too, had been here, done this. I shook his hand and asked if he had a few extra minutes. He looked at me as if to say, "Pinch me, I'm dreaming."
    Yes, I wanted more.
    "Sure," he said, "I'm all yours, baby."
    I flipped my notebook back a few pages, to the start of the interview. He talked about the uphill sprint.
    "What exactly do you mean about an uphill sprint?" I asked. "I mean, that isn't exactly a hill, but it is an incline. Is there a difference?"
    Again, he looked at me in disbelief. He couldn't wait to explain. Back and forth, we went, for nearly an hour. I'd flip back to something he said — those nuances — and he'd give a detailed explanation. Not just any explanation, but a simple, honest, account in layman's terms. Breaking down cycling for anyone to understand. For a moment I was taken back to the first interview I did with a real athlete back as a senior in high school, talking to Milwaukee area Olympian Jim Ochowicz.
    I felt like the Indian in "One Flew Over The Coo-coo's Nest."
    Ahhhh, cyclists.
    Eventually I had gleaned every last ounce of information from him that I could. Again, back to the absolute basics.
    "Hegg," I said, "how do you spell that?"
    He laughed loudly. "H-E-G-G!"
     I followed with machine gun speed. Where you from? How old? What's you background?
     "Well," he said, flashing the same know-it-all-smile I had seen an hour earlier, "I won a gold medal at the LA Olympics ..."

     I froze. He erupted with laughter, firing me his trademark Gotchya look.
     "Really?" I asked.
     "Really," he said.
     The day after my story ran in the Community section, I got a postcard from Steve Hegg. He thanked me for coming out and covering cycling, but more so for taking the time to learn and understand that sport — something he had never seen from a reporter in all his years of racing a bike. He signed it, "Golden Boy."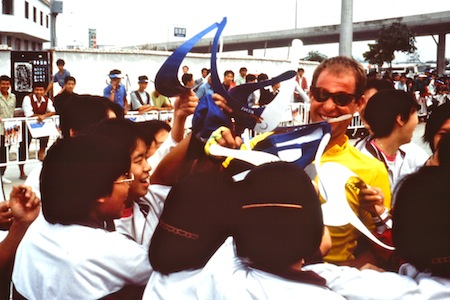 Steve Hegg ambushed by autograph seekers at the Tour of China, 1995.

Categories: None
/