Shopping Cart
Your Cart is Empty
There was an error with PayPal
Click here to try again
Thank you for your business!
You should be receiving an order confirmation from Paypal shortly.
Exit Shopping Cart
| | |
| --- | --- |
| Posted by johnnieraz on August 15, 2020 at 7:00 AM | |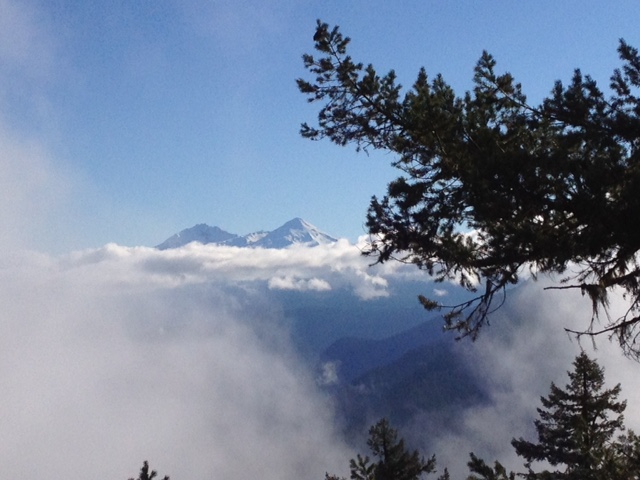 By John Rezell
     As we wrapped around the final switchbacks on the western edge of Castle Rock, the fog lifted from the valley into a bright blue sky like a flock of sparkling stars returning to the Milky Way. Ridgely charged ahead, as she's apt to do, as curious as I was — wondering if we would be graced by the view or fogged in.
     Once we cleared the summit and hiked to the eastern front, Mother Nature rewarded us in grand style. The Sisters peeked over a bank of clouds hanging like a sash around their middriff. We sat and soaked it in, this nearly perfect Saturday morning.

     Oregon gets a terrible rap for its weather, which, Spoiler Alert, is fine with us. It rains, sure, but nowhere near the London-esque manner most people believe. I ride my bike to work every day, and only need to don rain pants a handful of times each year. .
      From June until September, here in the Willamette Valley we see nary a drop of rain. Summers are magificent. The rest of the year, we never let a little rain bother us. Clouds, however, spend a lot of time hanging around here this time of the year.
     So to have a chance to make one of my favorite hikes and be rewarded with my most cherished Oregon image, well, I just couldn't pass that up.
     You can see the majestic Sisters from numerous locations in Eugene, but it's not as though they serve as towering sentinels watching over us. Which makes the fact that they have become my vision of "home" even more confounding. Whenever their peaks pop into view, something stirs deep inside.
     There was a time when Holy Hill, cradled in Wisconsin's Kettle Moraine gave me that jolt. Later the Southern California sunsets across the Pacific and the stunning views of the Flat Irons overlooking Boulder brought me that sizzle.
     These days, the Sisters offer me peace of mind. Home.

     Something about this hike lures me to this viewpoint again and again, after the first visit struck me like a magical spell. It has been our Christmas hike on many occasions that snow levels allow it, and it's the place where I brought my sax to wail one final tribute to Clarence Clemons on his passing.
     We had the mountain to ourselves this Saturday morning, Ridgely and I. Miles from our house, a few thousand feet above it, we spent the morning at home.

Categories: None
/