Shopping Cart
Your Cart is Empty
There was an error with PayPal
Click here to try again
Thank you for your business!
You should be receiving an order confirmation from Paypal shortly.
Exit Shopping Cart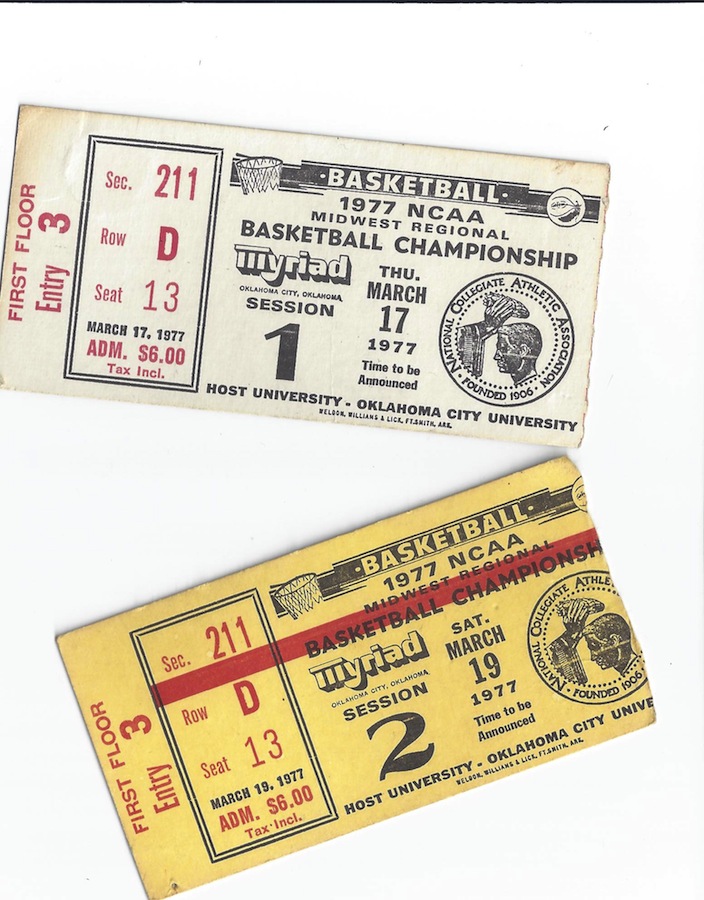 By John Rezell
     There are times in everyone's life, I assume, that they pause and warmly remember a moment that prompts them to fondly recall, "I'll never forget it. It changed my life."
     I say I assume this because, frankly, I don't know for sure.
     When I'm rambling on in my storytelling mode and share these profound moments from my life, I sometimes see nothing but confusion in the eyes of others. I hope, deeply, others take time to reflect and savor grand moments in life. If they don't, well, I suppose that's what people call stuck in the fast lane. All I can say is then it's time to change lanes.

     Each March, as millions get caught up in the excitment of the NCAA basketball tournament, I have quiet moments when my own "One Shining Moment" rolls through my mind. It's a time I'll never forget.
     Midway through my freshman year of studing journalism at the University of Wisconsin-Whitewater, I slowly came to understand what it meant to be a journalist. A professional journalist. Just about the same time, my life as a fan and future as a reporter crossed paths in the dusty, sparse plains of Oklahoma City.
     Growing up in Milwaukee as a basketball fanatic, I dreamed for years of attending Marquette University. The day the acceptance letter arrived was one of the greatest of my life. In the end, however, I couldn't afford to swing it.
     Hey, I was going into journalism. One bit of advice I heard over and over from college advisers was that journalism would not make you rich. You study it because you love it. I came to grips with that. I'd never be making serious cash. Not enough to pay off a private school education. So I ended up at the UW-Whitewater, while a number of friends stayed home to attend Marquette.
     Of course, the biggest part of a Marquette experience that I wanted was basketball. All my memories growing up were running to look at the rankings in the Milwaukee Journal each week to see UCLA No. 1 and Marquette No. 2. Once, maybe twice, during the regular season you might have to endure the agony of defeat. Then you had to survive the NCAA tournament, and tortures the Warriors would face each year coming close, but never cutting down the nets.

     That basketball season of my freshman year, I watched as Marquette seemed to crumble. Losses were mounting. Things simply could not get any worse for a Marquette fan, or so we thought. Then, we learned otherwise. It got worse beyond comprehension. Al McGuire announced it would be his final year.
     McGuire had a great impact on my life. His zest for life, and his ability to see sports for what it was, simply a game, forever changed my life. His flambouyant style combined with outrageous success made my head spin. Yet, through it all, he remained so grounded.

     One of my best friends had close ties to McGuire. Donnie's parents were good friends and season ticket holders. When the NCAA tournament came along, Donnie landed four tickets to the Midwest Regional in Oklahoma City. There were three of my high school buddies going to Marquette. They offered me the fourth ticket.
     We jumped in Donnie's big old Chevy and drove down, straight through the night, for a magical experience.
     It was a Thursday-Saturday regional. Marquette's first game was Kansas State. We didn't get Marquette student tickets. No, these were VIP tickets. We were right behind the Marquette bench. The intensity level transcended anything I could remember, shy of Bart Starr's quarterback sneak against the Cowboys. This wasn't just a game on the line. This wasn't just the NCAA Tournament on the line. This was Al McGuire's swan song. Lose, and it's over.
     After a thrilling victory where we screamed our voices dry, we went back to the hotel and called the gang of buddies at the University of Wisconsin. They said they saw us on TV. It would have been impossible to sleep that night had we not driven through the night before.

     On Friday, Donnie hit the links with the VIPs. Schlag and I got antsy, and without a car, we wandered about Oklahoma City on foot. Eventually we stumbled upon the Myriad, the arena where the games were being played. Too cool.
     We wandered up to the door and peeked in. We couldn't believe our eyes. Marquette's players raced up and down the floor in front of empty stands. We looked at each other just stunned. We could have stood there forever and considered it the best. Then we tried the door. It wasn't locked. We snuck in.
      Just as countless athletes get overwhelmed as they run from the lockerroom onto the court or field, I found the true ambience of the NCAA tournament swallow me whole as we walked in. There were Rick Majerus and Hank Raymonds, McGuire's assistant coaches, running the team through Wake Forest's offense.
      Wake Forest's star forward Ron Griffin was the ACC Player of the Year. At 6-foot-7 we watched him and his team dismantle Southern Illinois the night before. Majerus took Marquette's ultra-talented back-up forward Bernard Toon and schooled him on Griffin's signature moves. Meanwhile, Raymonds plotted with the Marquette defense on how to respond and defend.
     The intensity of the practice hit insane levels. Pushing and shoving. Toon hellbent on proving he was Griffin plus one. Diving for balls. Astounding.

     I took a moment to soak it in, and scanned the empty arena. Then it hit me. In the top row of the stands with a reporter from the Milwaukee Journal, Al McGuire sat with his feet up on the seats in front of him with a crow's nest view. As the precious final few minutes of practice ticked away, McGuire descended from his lofty perch, and ratcheted the intensity of the practice beyond belief. Hair stood on end.
     We turned to head home, and Donnie's mother was there with Mrs. McGuire. We told them we had walked down from the hotel, which stunned them. In yet another of a string of pinch-me moments, they offered us a ride back to the motel on the team bus. Amazing.
      To this day, those images remain more entrenched than the games themselves. We sat on the bus as one-by-one, the Marquette Warriors walked onto the bus. As the players filed on, we looked to the side. McGuire slipped out of the lockerroom and onto a Harley-Davidson waiting for him. He revved it up big time, and roared away.
     On the ride back to the hotel, we sat among the Marquette players. The buzz on the bus was UCLA's loss the night before to idaho State, a huge upset. As the players joked, Butch Lee, who would eventually win the Most Valuable Player Award as he led the Warriors to the National Championship, barked out loud, "We ain't pulling no U-C-L-A!"
     Schlag and I looked at each other in disbelief.
     Saturday afternoon, Marquette played a crafty game. We watched Rod Griffin's every move, and knew exactly how the Warriors would counter it. The brillance of the coaching staff blew me away. I found a story behind the story. The essence of every event I would ever cover as a journalist would drip with the story behind the story. While I might never write a sentence about that background vibe, it becomes part of the story that finds its own way to manifest itself in what I write.
     The Warriors won, and as the closing seconds ticked away, all eyes fell upon one soul. When the horn sounded, Al McGuire turned to the roaring crowd, just 10 feet in front of us, and thrust his hands into the air. He was on his way to the Final Four. I've never seen the replay of that on TV, but I swear I left my body and swirled around the rafters, plopping down in that seat on the top row, and took it in.

     We stayed, roaming around in a haze, until the arena was empty. We looked in one last time at the trash littered floor where more than one dream came true that afternoon. Finally, we jumped back into Donnie's Chevy and drove straight through the night.
     We pulled down the street of my parent's home just as the sun began to rise on a magnificent morning. It felt like we had left the Myriad just moments ago, the adrenaline still sizzling through my system as we talked nonstop for 15 hours or so about the experience. I stepped out of the car and reached into the paperbox, pulling out the Sunday morning Milwaukee Journal with the headline roaring. I showed it to them, and they drove off. Sitting alone at the table, sipping coffee, enjoying the morning light, I opened the paper to read the story. But I already knew it well.

Categories: None
/