Shopping Cart
Your Cart is Empty
There was an error with PayPal
Click here to try again
Thank you for your business!
You should be receiving an order confirmation from Paypal shortly.
Exit Shopping Cart
| | |
| --- | --- |
| Posted by johnnieraz on September 19, 2030 at 6:35 AM | |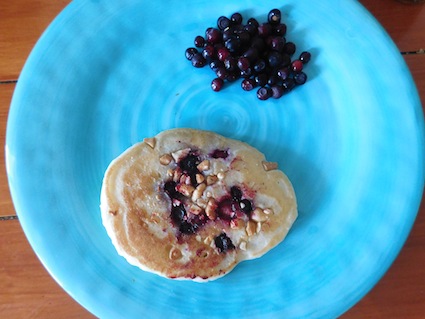 By John Rezell
     After 10 years of exploring the seemingly endless riches of Oregon, you might think the magic would be gone if not severely limited.
     You'd be heavenly mistaken.
      Ridgely and I escaped into the hills for the day.
     We headed up to a place I figured was very popular, so we've never explored it. When it proved to be a virtual ghost town on a wonderful Friday smack dab in the middle of summer, well, it made me wonder what was up.
      This being Oregon, the first thing you look for is smoke. Luckily, we saw none.
      After 10 minutes of sniffing around I could not, for the life of me, find the trailhead. It's not like this is a place hidden in the middle of nowhere. It's right off a pretty well-traveled artery.
     Trailhead signs and markers disappear all the time around here. Usually it's a tourist. Maybe it's a pot grower. Or maybe the Forest Service discontinued its maintenance of the trail. Who knows?
     Ridgely hopped back into the truck and we moved on. There are still numerous hikes we've never explored, which seems hard to believe given the fact that we probably have averaged a hike a week over the past decade. In fact, this summer alone we've been on three new trails in a month.
     Nothing more than a directional sign that didn't even mention the word trailhead sparked my interest. It reminds me of my high school and college days going out on road trips with my Brother-in-Law Dennis. We'd drive out into the Wisconsin countryside with a simple rule: You had to turn on a road you've never been on before.
     We turned and headed up a gravel road. When we got to the trailhead, again. A ghost town. No signs anyone has been around for a while.
     That's fine with me. I kinda prefer being in the woods alone as opposed to passing people left and right. We packed up and headed down the trail.
      It struck me early on that this might be nothing more than just a trail. In my endless quest to make our hiking magical for the girls, we usually hike to a waterfall or a lake or a great overlook. My instincts told me this might have none of the above.
     Still, with temperatures in the 70s with bright sun, it really didn't matter. Ridgely and I were out and about. She was having a super time of it.
     About 45 minutes into the hike, I started noticing more and more berries. It finally hit me. Huckleberries!
     My only previous encounter with Huckleberries came years ago when my brother Tom visited and we rode our bikes around Waldo Lake. The season long past as we enjoyed the changing leaves of September, we managed to find a Huckleberry or two here and there.
     Other than that, never. None. Ever.
      Of course my first inclination screamed to just call it a hike right now and start filling up any container I might dig out of my backpack. The shear numbers, even though most weren't anywhere near ripe since August is more Huckleberry season, told me to continue on my reconnaissance mission.
      Besides, we could come back tomorrow, the whole gang, and stock up.
      We hiked deep into the woods, heading up, as usual. The Huckleberries continued to thrive, although not like the photos you see if you do an internet search. Those look more like Blueberries on a farm. Wild is a differnent story. No clumps of berries. Mainly singles.
     Eventually we came upon a small lake, which Ridgely just loves. She took a swim and filled up. We pushed on for a while, but no signs of anything else on the horizon along with the Huckleberries calling me prompted a turnaround.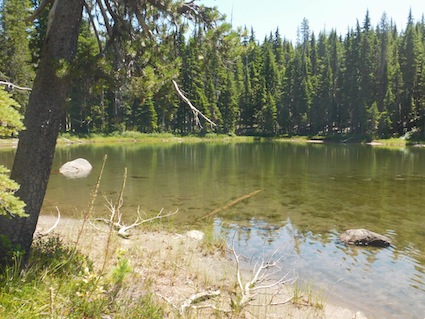 I began picking, focusing only on what looked ripe. I'm guessing at the higher altitudes that was about 10 percent of the Huckleberries out there.
     It's a very slow process. Even slower than picking Blackberries, which line almost every roadside around here.
      I managed to pick quite a few, but as I got back down closer to the trailhead I left many behind. I figured we'd come back the next day for some harvest.
       Back at the trailhead, Ridgely just finished her post-hike meal when I heard, are you kdding me? A truck. Moving about 10 mph, it took forever for him to reach us at the trailhead. Pulling a horse trailer with an official Sheriff''s Posse emblem on the door, and older, cowboy gent lumbered out of the cab.
      He asked me if I knew much about the area. I did not. He reckoned it was a good place for horses, since there were hitching posts at each pullthrough. I tried to direct him back to another campground, and then he told me why he wanted to be here. 
     In the morning, this place will be swarming, he said. Something about a search for an old World War II plane that crashed in this neck of the woods. My stomach churned. There goes my plans for tomorrow. But with a nice stash of Huckleberries, at least I'll have enough for a nice feast at home.
     Up top, that's the cashew and Huckleberry pancakes I made for breakfast on Saturday morning.
      If it sounds like I'm being rather vague here on the location of this find, well, it's by design. There are some things Oregonians never share. Things like where they know to find truffles, Chanterelle mushrooms and Huckleberries.
Categories: None
/