Shopping Cart
Your Cart is Empty
There was an error with PayPal
Click here to try again
Thank you for your business!
You should be receiving an order confirmation from Paypal shortly.
Exit Shopping Cart
| | |
| --- | --- |
| Posted by johnnieraz on October 31, 2020 at 1:20 AM | |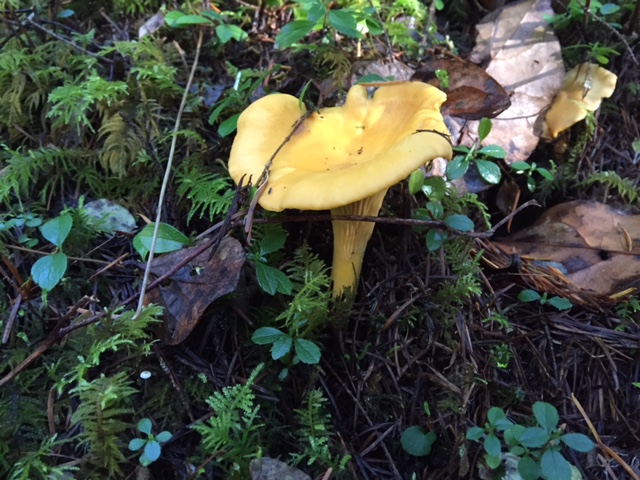 By John Rezell
     Don't get me wrong, I certainly enjoyed having warm, sunny days well into October this year. Whether that is Global Warming or just a sweet gift from Mother Nature in an otherwise wild year, time will tell.
      It did, however, have one rather negative impact: Hunting for Chanterelle mushrooms.
      Typically as soon as the weather turns cool and the rain begins to fall, you can head into the forest for harvest. It's important to get out before the frost, although most Chanterelles stay more than a little hidden under a warm blanket of moss and fir needles. We usually have a nice wide window of opportuity, maybe 4-5 weeks.
      This year, with little rain throughout the year, once it did begin to get a little wet, the hunt became challenging.
    I spend most of the year on the trails. I'm not a bush-whacker or explorer, which is probably why I haven't had a search party out in my dishonor. Come Mushroom Season? I'm off the beaten path.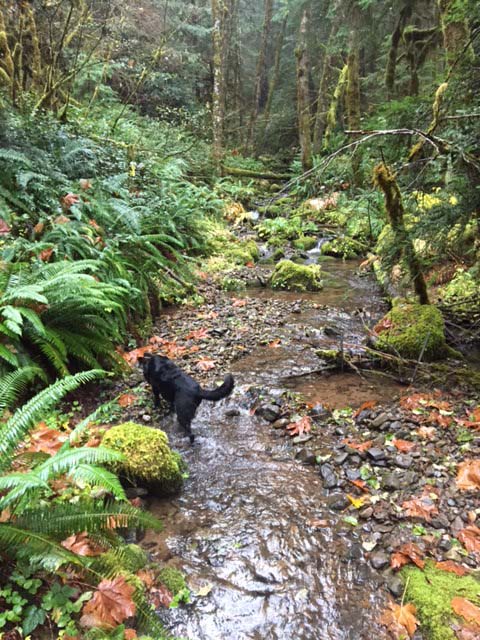 Years ago I learned the true value of having my black lab Ridgely in the woods with me, and it isn't for protection. No, she'll run back to me like a little baby at the slightest hint of danger. 
     She is priceless in knowing how to find our way back exactly the way we came, if it comes down to that. It never does. I'm very focused when I'm off the trail, and generally work my way up and around a creek that I can always come back to and follow back to the road.
     Our first ventures to the new spot we uncovered last year found that it was slim pickin' at best. Still, we managed to find enough for a week's worth of delightful dishes (I love them on pizza more than anything).
     Exploring more in that general area didn't pan out much. Still, whether or not I find anything, a couple of hours of hiking up and down steep ridges knee deep in ferns makes for a good workout.
      Two years ago I attempted to find my first golden spot that I went to for 2-3 years straight. But not visiting it for two years or so made it somewhat unrecognizable, since the forest grows quickly around here. My very first favorite area I uncovered is now pretty much impassable.
     Having come up somewhat empty in my attempts in the Cascades, I decided to head back to the Coastal Range for my first true golden spot. I was pretty sure I ventured much farther into the woods on the forest road that ever before, and after rolling back and forth, I decided to take a stab at a creek crossing.
     Heading up hill at about a 60% angle proved to be killer. Eventually it leveled a bit, but we were striking out. Although Ridgely loves to eat Chanterelles and will find one when it is completely under her nose, she has proven to be worthless in just sniffing out a bunch.
     Then, we found a few. Then a few more. Ridgely started leading me up an overgrown logging road and slowly this area started feeling a bit more familiar. We found some more, here and there. Golden beauties just popping out of the forest floor.
     We were on a tight schedule, so I only had about 20 minutes left. As we started back down the hill, I felt 50-50 on whether or not this was my favorite spot or not. Seemed like it was, but then in some areas it didn't. I decided to make a little bit of a sweep along the mid-point of the ridge before diving down to the creek.
     BINGO!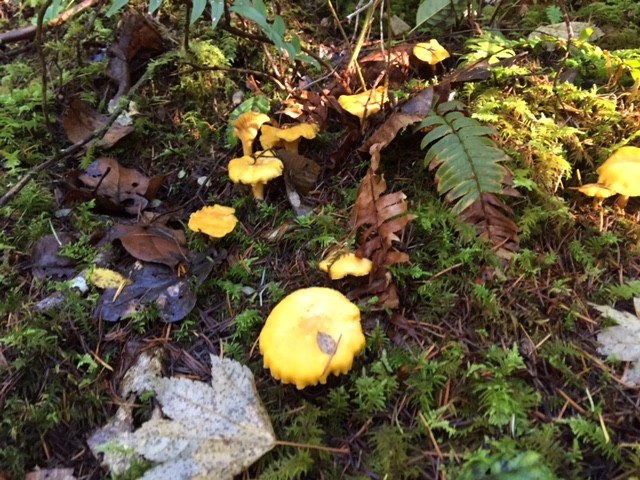 It paid off with a big batch for my famous Oregon Chanterelle, Hazelnut and Blackberry stuffing for Thanksgiving.
     We did go out again. Much to my surprise, there were still plenty in my good old spot (that I know have specific directions for so I won't lose it again).

     Plenty leftover that should last until Christmas dinner. Yummy.

Categories: None
/