Shopping Cart
Your Cart is Empty
There was an error with PayPal
Click here to try again
Thank you for your business!
You should be receiving an order confirmation from Paypal shortly.
Exit Shopping Cart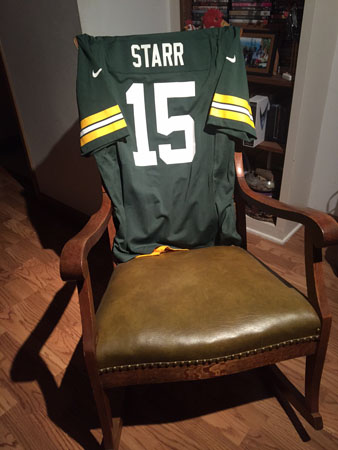 EDITOR'S NOTE: I spent Memorial Day weekend camping in the wild, cut off from news and the Internet. I returned to learn that my childhood hero, Bart Starr, passed away. Here is a rewrite of the blog I wrote almost four years ago when he was about to make one of his last appearances at Lambeau Field.
By John Rezell
      I'm shedding more than a tear or two. To be honest, I just cried like a baby. 
      I've enjoyed a great life, really. There aren't enough thank yous on the planet to give it justice. 
      So none of my tears come from sorrow. Instead my tears pour forth from a place of pure joy. A place where, no matter what age you are, the air of childhood innocence floats back into your reality.
      I feel the embrace of unlimited potential, remembering what it's like to believe for the first time that you can make your life anything you want it to be. I say remember what it is like for the first time since I carry that feeling with me every day. Like I said, I'm a lucky man.
       I feel the yearning to rise to a lofty standard and be a great leader, knowing full well that I can battle from any depth if I believe in my heart and my convictions.
      I know this because I feel the power a hero can unleash upon a boy.
      I'm thankful for Bart Starr.
      Bart Starr played quarterback for the Green Bay Packers way back when, long before Charles Barkley made his claims that athletes shouldn't be heroes. The truth is that many athletes don't deserve to be heroes. The simple fact remains that Bart Starr set the standard for heroes.
      On the field, Bart Starr exhibited grace under pressure. He showed how to lead men. He was cleverly risky.
      Bart Starr led the Packers to five NFL Championships. Over coming challenges? Five titles is pretty good for a kid selected 200th in the draft. Yep, that's one position later than Tom Brady.
      What set Bart Starr apart, even for a young kid, was the way he handled himself. Always a Southern Gentleman. Polite. Well-spoken. A rock.
      I don't know why I decided I wanted to be a good man other than I wanted to be like Bart Starr
      When I faced my greatest moral challenge as a journalist and had everything to lose except my dignity, I thought of Bart Starr. It may sound funny, a grown man suddenly brought back to his youth. But that's what happened. Somewhere in those memories I found the strength of my conviction.
      Life is filled with countless encounters and influences. You never know who, what, when or where you might feel their effects.
      Luckily, I knew who.
      Bart Starr may be gone now, but that green No. 15 will always live on in my memories, and in my heart, guiding me as only he can.
Categories: None
/