Shopping Cart
Your Cart is Empty
There was an error with PayPal
Click here to try again
Thank you for your business!
You should be receiving an order confirmation from Paypal shortly.
Exit Shopping Cart
| | |
| --- | --- |
| Posted by johnnieraz on February 6, 2021 at 11:40 PM | |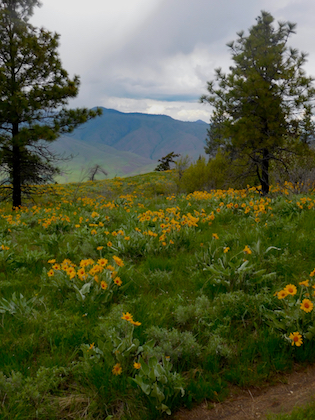 Wild flowers bloom on the Glacier View trail outside
Wenatchee, Washington. Photo by John Rezell
By John Rezell
From the Glacier Trail
     The views of wild flowers flowing up and down the rolling hills as they seemingly come alive, reaching up to majestic peaks sometimes bathed in sun but more often smothered by storm clouds, proves as breathtaking as the task of pedalling a mountain bike along this magnificent singletrack.
     For the past two hours I've been chugging up climbs, jetting down hills, stopping repeatedly to start or stop my GoPro, and snapping countless photos. Although this should be a physically demanding workout, I feel as though I'm floating in a wonderful dream, tireless, feasting on nature's pure beauty.
     I've come to this stretch of the Cascade Loop in Washington state on assignment, to write about this invigorating place for my magazine, OutdoorsNW.
     I grudgingly accept that it's time to head back when the wind whistles across the rolling hills and blasts me with a tremendous gust that nearly shoves me off the singletrack, and hail pecks away hitting my helmet and sunglasses.
    Even this nasty side of Mother Nature pumps me up, and I soar down the face of the mountainside beaming inside and out.
    Typically a song will pop into my head as I find a way to capture the entire experience.
    I literally laugh outloud as I hear Steve Martin strumming his banjo and reciting no truer words for my life:
    "But the most amazing thing to me is,
     I get paid for doing this ..."
Categories: None
/