Shopping Cart
Your Cart is Empty
There was an error with PayPal
Click here to try again
Thank you for your business!
You should be receiving an order confirmation from Paypal shortly.
Exit Shopping Cart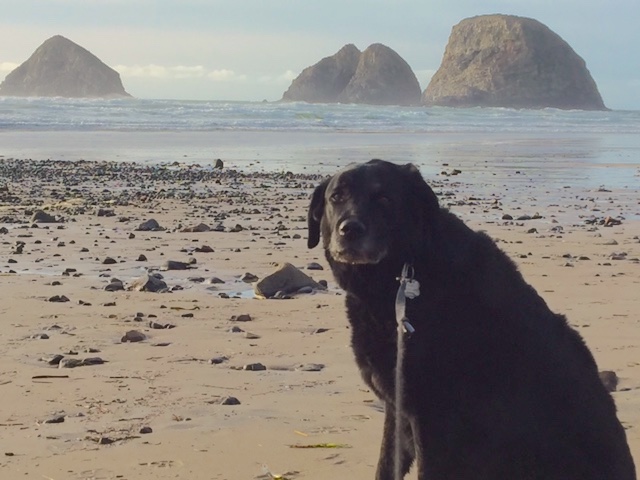 By John Rezell

     I've often wondered about the concept of dog years, although never enough to actually research how or why we multiply an earthly number of years by seven to understand how old our canine companions might be.
     I never found need to do the math early in my black lab Ridgely's life, relying instead on a simple visual evaluation.
     Once she appeared to be big enough to handle hiking with me, she came along. When it looked like she would be able to hang with me biking, she came for those outings, too.

      The first time I calculated her dog age — when she turned eight — I was blown away that she managed to continue to run wild like she had done at age two. Hmmm, a 56-year-old bounding through the forest like a 14-year-old. Impressive.

     Eventually I became the first to slow a bit. Super long hikes and bike rides were replaced by shorter ones, along with more time soaking in the experience rather than blazing to the finish.
     At 10, er, 70 years old, I'd look at Ridgely's patches of gray hair and hope I'll have that kind of vigor when I hit her golden age.
     Ridgely cruised to age 11, occasionally beginning to hesitate before leaping into the back of the Santa Fe. Her spirit wanted to, but her body questioned it. Eventually she always jumped in.
     Now she's almost 15, er, 105. She still wants to hit the woods as often as possible. But once there, she doesn't have the zip she used to. We take it easy. I get her out for her walks, and leave the longer, tougher hikes to myself.
    On those lone journeys now, I think about the outdoor adventures we've shared over the past 15 years.
    She has enriched my life exponentially.
    Heck, times seven?
    Hardly.
    More like a thousand-fold.
Categories: None
/