Shopping Cart
Your Cart is Empty
There was an error with PayPal
Click here to try again
Thank you for your business!
You should be receiving an order confirmation from Paypal shortly.
Exit Shopping Cart
| | |
| --- | --- |
| Posted by johnnieraz on April 13, 2019 at 11:45 AM | |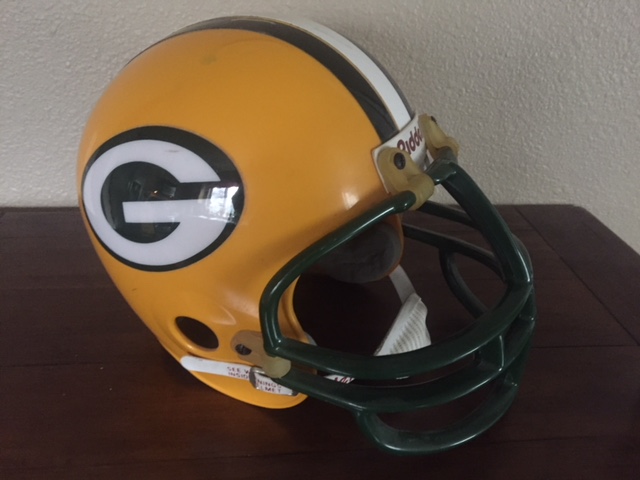 By John Rezell
     There's an aura that buzzes around extraordinary people, an electric field you can actually feel in their presence. You need not say a word nor shake a hand, but you feel it deep inside your soul there is something very, very special about them even if they haven't risen to their potential yet. I've been lucky to experience people like this throughout my career, but I'll never forget the first time when it caught me completely off guard.
     I drove up to Green Bay to attend a Packers preseason practice to get some quotes for a preview story. It was 1984, and former Packer and now head coach Forrest Gregg jogged over to a small huddle of reporters on the field.
     It's not that I was star-struck, even though I grew up a fanatic Packer Backer. I was a sportswriter now, and people who once appeared larger than life were just people I was interviewing. Heck, the days before that trip I was walking around Platteville, chasing Chicago Bears coach Mike Ditka for quotes. Each time I'd catch up with him he'd fire me that Ditka growl, which in my mind was a sign of respect, born from our first introduction.

     As a sportswriter for the Dubuque Telegraph-Herald, I got wind early that the Bears were going to move their preseason training to UW-Platteville, so I called Ditka to confirm. At first his secretary blew me off, saying he was unavailable. When she asked the reason for my call, I told her I was writing a story about the Bears coming to Platteville. She put me on hold. The next voice I heard barked at me, "How the hell did you hear that?" And so my relationship with Ditka began.
     Standing in that small group of reporters watching Forrest Gregg approach, I just prepared for a typical interview. Click on my tape recorder, start scribbling notes, ask a question or two if the local reporters didn't ask first. Then he stopped at our group, and the wave hit me. I actually froze.
     The interview began and I found myself simply in awe. I wasn't taking any notes. My hand held my pen on my notebook as I simply absorbed the moment and felt his aura wash over me. I could feel this energy and intensity radiating from him while my mind was racing with a video history of him from playing days to sidelines coaching.
      What shocked me is that it took me completely by surprise because I wasn't nervous or even thinking it would be anything special ahead of time. Just another day at work, another interview. Instead it was a moment for a lifetime.

      Forrest Gregg wouldn't be the last person to hit me with his aura, but he offered my first taste of the palpable vibe of being in the presence of greatness. RIP, No. 75.

Categories: None
/