Shopping Cart
Your Cart is Empty
There was an error with PayPal
Click here to try again
Thank you for your business!
You should be receiving an order confirmation from Paypal shortly.
Exit Shopping Cart
| | |
| --- | --- |
| Posted by johnnieraz on January 23, 2021 at 12:35 AM | |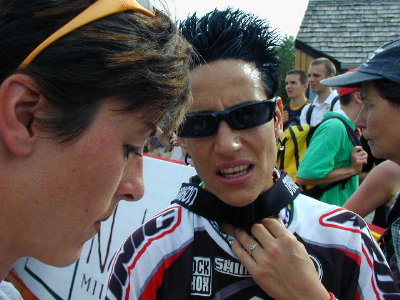 Missy Giove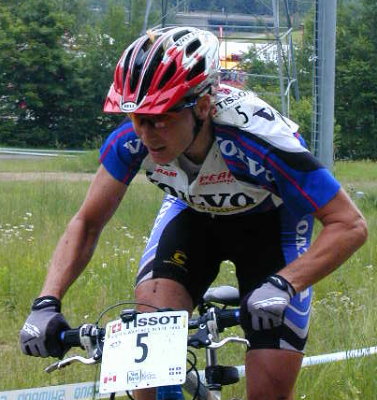 Alison Sydor

EDITOR'S NOTE:Looking through some memories of past Decembers and this fun tale popped up from 1995.

By John Rezell
Outside Austin, Texas
     The rain tapped gently against the windows of the Barton Creek Resort in the rolling hills of central Texas as Christmas music danced lightly in the air, past the elegantly decorated tree, the grand piano and over the leather couch.
     The atmosphere was, hmmmm, how would the Austin locals down on Sixth Street put it?
     AW HECK, PARDNER, IT WAS MUSHY, SISSY, DOWNRIGHT PEACEFUL, IF'N' YER INTO THAT SORTA THING. ONE, TWO, ONETWOTHREEFOUR!
     Ahhh, yes, it was. Peaceful. Somehow I'd forgotten I was smack dab in the middle of a lousy week. I had the flu. I couldn't sleep. I had no rental car. I had one day to cram in 10 interviews, hearing the same thing over and over from each cyclist attending the combination Motorola road team/Cannondale mountain bike team camp.
     "I feel like this is my year," I'd write in my notebook over and over, feeling like it was some elementary school punishment. Oh sure, in between there were some scintillating conversations, but each would end with Motorola's flak Paul Sherwen popping up like some British Head Master From Hades, knowing full well the answers to the questions he rifled at me with a sly smile. "How was that one? Ready for another?"
     But now, now time was standing still. Thankfully the Motorola guys had a meeting or something, and Cannondale's manager Tom Schuler — the man who never met a PR Op he didn't like — had his riders stop by for a chat.
     Nestled comfortably in the leather couch sat Alison Sydor, the quintessential country girl next door. Her soft demeanor belies the fiery heart that rages when she's on a bicycle. Her eloquence in this majestic setting (a place where Barton Creek residents stroll through nonchalantly chatting about buying $200,000 yachts for a one month vacation as opposed to renting) gave mountain biking a near royal texture.
     If the cross country World Champion is a queen, well, bravo for the casting.
     "The rainbow jersey means I know that I have beaten the best in the world," Sydor said. "Until you actually do it, you always have that little voice in the back of your head wondering if you can really do it. It's always easier going after that first World Championship because you want it so badly.
     "Sometimes riders have a little lull after they win it. It's that catalyst that the other riders still have and you don't. The question becomes whether or not I can do it again. That's completely different from doing it the first time. But I also have the confidence of having done it before, which can make all the difference in the world."
     Sydor may be a little bit on the quiet side for some, but that's the beauty of a little Texas rain. She had no appointments to keep and, well, she enjoys sitting listening to the rain and talking. I always enjoy listening.
     Our time slot had long expired. But neither of us were in a hurry to do much of anything. Besides, the next interviewee was late and I had no where to go. Bing Crosby started crooning "White Christmas."
     "I'm, dreaming ..."
     Whoa, wait, suddenly there's a ruckus in the lobby and the bellboys are belting out laughs and punchlines like it's Lollalapalooza or the county rodeo. I'm wondering what the ... and Alison just shakes her head gently, sort of like she's seen it before.
     And in swoops my next appointment, her mouth rattling like my teeth on a gnarly downhill:
     "Sorry I'm late .... Am I too late? .... Will this take long? .... What is this for, anyways? ... I really need to go to the gym and pump some iron ... Is the coffee still hot? Can we do this later?"
    And with a whoosh, Missy Giove plops onto the couch next to Sydor, the Texas humidity having done magical things with her dreds. She balls up into the fetal position at Sydor's feet.
     "Oh, God, cramps ... Bad cramps ... It's like I'm dying."
     Boom. Like she's charging out of the starting gate atop Mammoth Mountain, Giove is talking about periods, and I don't mean the Renaissance. Sydor is the girl you left at home when you went to college. Giove is the girl you meet at your first Frat Party with a voice in your head screaming "This is the kind of girl mama was talking about..."
     Next thing you know Giove is talking about cars and police and missing windshields and speeding in the desert without that windshield and, well, don't bother trying to keep up with her. It's impossible. To appreciate Missy whether she's soaring down the mountain or running at the mouth is to sit back and enjoy.
     So that's what Sydor and I do for the better part of the next two hours, occasionally pausing to debate some philosophical conclusion that Giove has come to as a result of the latest story. Like stereotyping.
     "It sucks the cops don't believe the car could be mine just because I don't look like someone who could afford a Volvo without transporting contraband across the border in its trunk ... Not everyone with dreds smokes pot ... OK, so maybe most do, but not all of us ... At least not in season, you know what I mean? ... I need a hot water bottle ... You have one?"
     But that doesn't really faze her, stereotyping. Nothing does. Because Giove has one mission, and one mission alone. And that's to make sure that everyone knows she deserves to be pulling on that rainbow jersey signifying downhill World Champion just as much as Sydor does, because she earned it, she paid her dues and she won't slow down one single bit until the retirement police pull her over and strap her to a Rockin' Chair.
     It's like the training ride earlier that morning, before the rain, where the former roadie Sydor slipped in with the guys she's been reading about for years in VeloNews. "To get to ride with Steve Bauer, and Frankie Andreu and Lance Armstrong," Sydor said. "That was really neat."
     The group would turn a corner and suddenly a sliver-tired road bike would jump off the road and cut the corner like a buzzsaw. And on the other side Giove would bunny hop the curb back into the pack. Eventually the hills and the road bike got to Giove, and she found a couple of helping hands on her back as they chugged up the final hills.
     "They put together the bike this morning ... it didn't fit right ... Man, that sucked ... I'm so ticked, I hate getting dropped ..."
     Ultimately I steer the conversation to a movie idea I'm kicking around, one about a teen-age mountain biking phenom who is also a straight-A student and has to decide on the circuit or college.
     Missy rips me a new one with her laugh.
     "It's a no brainer ... Just what happened to me as I was getting ready to jump from books to berms ... It's no decision ... You just go for it."
     Maybe, I argue, but you have to think about what you're giving up. In your case you moved across the country, away from your family and friends. Tell me you didn't think twice. Tell me you didn't wonder. Tell me you weren't scared.
     And Missy closes the session with the face you see in Webster's Dictionary next to the definition of "Da." She stands and heads out with Sydor.
     "Everybody has fears ... But you can't be afraid of what's in your heart ... That's the feeling you have to trust ... That's all that counts."
     Alison smiled and nodded in agreement. Two champions. Two worlds. One philosophy.
     I just shook my head as they walked away.
     "How big are your feet? ... Have you got running shoes? ... I'd like to go for a run in the rain ... can I borrow a pair? ... You don't mind a little rain, do you? ..."
Categories: None
/