Shopping Cart
Your Cart is Empty
There was an error with PayPal
Click here to try again
Thank you for your business!
You should be receiving an order confirmation from Paypal shortly.
Exit Shopping Cart
| | |
| --- | --- |
| Posted by johnnieraz on February 13, 2021 at 1:55 AM | |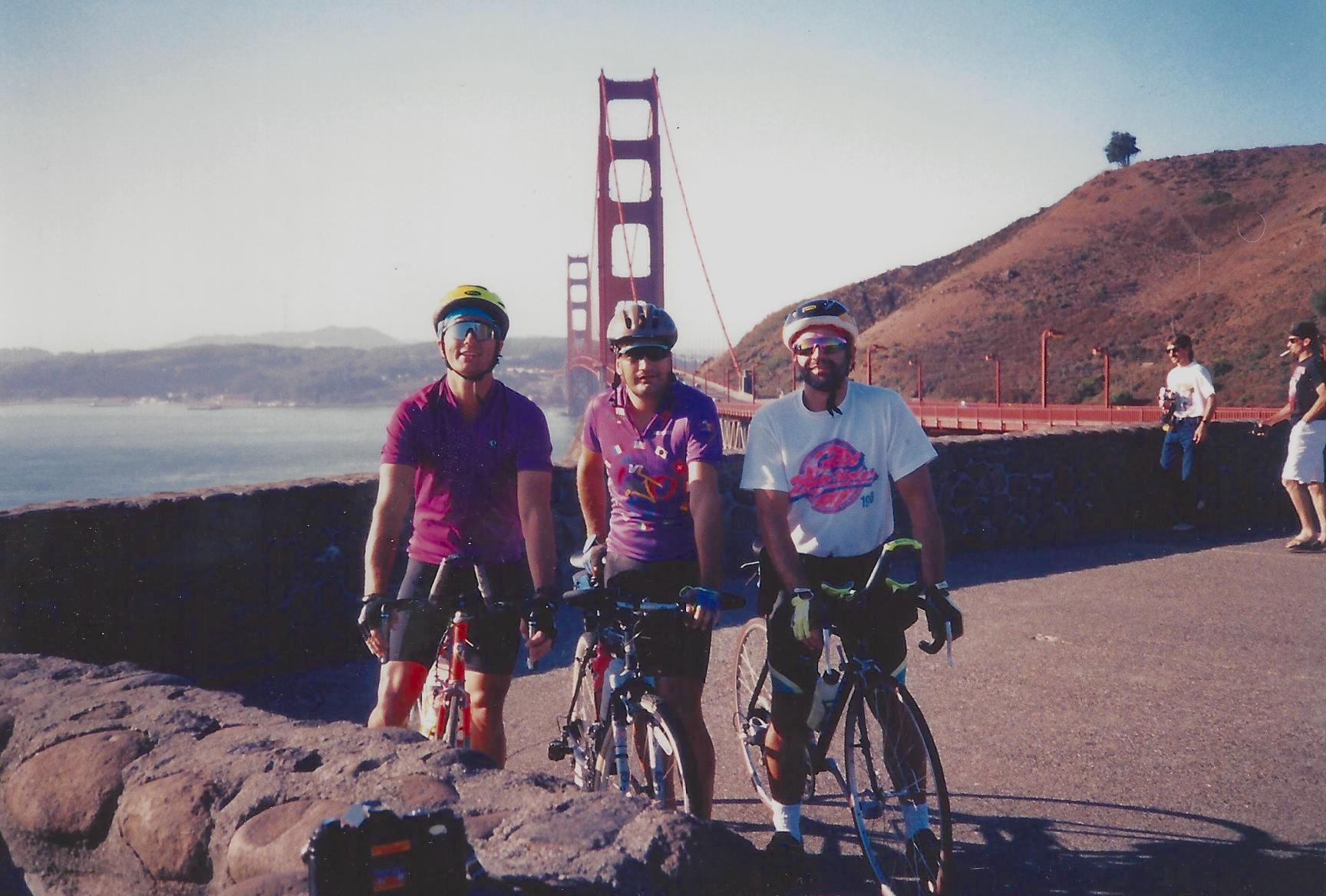 A year after my bike ride from San Fransisco to San Diego, I rode from San Fransisco to Los Angeles with two of my brothers. Copyright photo by John Rezell
By John Rezell
EDITOR'S NOTE: As the anniversary of publishing my first three books passes, here is an excerpt from "A More Simple Time: How Cycling Saved My Soul" chronicling my epic bike ride from San Fransisco to San Diego.
     A hazy fog blanketed San Francisco Bay in a comforting, not smothering way, allowing enough of the red majestic guide towers of the Golden Gate Bridge to rise and ultimately disappear into the gray, unveiling the magnitude of the structure while leaving its true limits open to the imagination.
     The sun's rays poked through the clouds to the North, slicing a sharp angle that coincides with the dawning of a new day. A bright red line of brake lights on the right and brilliant white headlights on the left were evidence of another typical morning commute along the California coast. Typical for everyone but me.
      The tourist plaques embedded in the wall of the park noted directional arrows to follow through quarter-per-view binoculars. Beyond the fog in one direction is Alcatraz, the Bay Bridge hides in another direction, and so on. For me, direction carried much more than a simple East, West, North, South compass heading. Down across the bridge, through the fog, farther than the eye could see and further than many minds can imagine, along the coast of the same Pacific Ocean, sits the small village of Carlsbad, the place I now call home.
      For more than eight years Carlsbad has been the center of my adventures, the place where I climb aboard my Trek and pedal away for a few hours, always to return. Finally, those hundreds of hours and thousands of miles would have meaning. They had driven me to the edge of a dream that began along the quiet farm roads of Wisconsin, on rides to Milwaukee's Lake Front, the shores of Lake Geneva, and the roller-coaster of Dandelion Park. After years of waiting and refusing to let go of the single, true childhood dream that eased the pain of countless hills, the anger of endless idiotic drivers and the frustration of life's daily grind, my time arrived.
      While the rest of the entourage remained in the Pace Arrow and attempted to get in a few more minutes of sleep sacrificed during the eight-hour drive the night before, I stood alone at the northern end of the grand bridge wondering what the next week would bring. Carlsbad, by my best guestimate, was some 650 miles down the coast. More realistically, Santa Barbara sat 450 miles away. In either case, the highest mileage total of my life for one week was 280 miles.
      My training for the adventure started briskly. The first week included my first 100-mile day in a long time, probably two years. Four 250-mile plus weeks followed, but then my work schedule got hectic. On my road trip to Texas I could only manage 180 miles the first week, although all were mountain climbing miles at altitude forged north of Phoenix and near Santa Fe. The next week my only major ride was 4.5 hours of hell in the hot humidity of Houston with my brother Joey. In the final 10 days before this trip, I rode just two hours. Total.
      Complicating the slew of questions running through my mind: the uncertainty of the fitness of my two riding partners. Jeff, the lead singer in our band Atrocious Noyze, has two years on me and I never underestimate the value of youth. Although he hasn't trained much for the ride, eight years ago he was a major cyclist. After graduating from San Diego State, he and his cousin Bob rode from San Diego to Dallas. Their attempt to go cross-country ended when Bob's body shutdown from lack of proper nutrition during the ride. This, they said, despite eating like pigs every day, opting for a milk shake over diet soda, apple pie ala mode over an after dinner mint. I'm not a big eater to start with, and sometimes during training I find it difficult to keep pace with my calories burned. Just another worry to consider.
      The other member of the trio, Dan, was the unknown quantity. I never met him before, but quickly learned he has done this SF-LA bicycle trip 10 times. He's done bicycle touring throughout the world. But he hasn't had time for much training. He planned to ride into shape along the route. An interesting concept, I thought. I've heard Greg LeMond rides himself into shape during the Tour de France, but frankly, I couldn't imagine the hard days ahead doing anything but wearing a body down.
      My greatest fear creeped into my head: I'd figuratively die somewhere along the route, and simply abandon my quest because of exhaustion. I needed to avoid that at all costs. I'm a tortoise. If it meant watching my partners ride up the road alone and disappear over some hellacious climb to avoid that embarrassing fate for abandoning my quest, so be it. I knew from occasional rides with Jeff that his typical rabbit pace zips along much faster than I'm accustomed to enjoying. I train alone and with my wife Debbie, so I set my own pace. I'm seldom in a hurry. The markers chronicling the history of the Golden Gate Bridge struck a logical case for perseverance. The structure has been painted nonstop since 1937. If that's the attitude it takes to get me to Carlsbad, fine. The simple fact remained that the rest of the group had full-time jobs to return to Tuesday. They had deadlines. This is what my job is these days, riding my bike, writing about cycling, and carving a niche for myself. If it took two months, I was ready for the challenge.
      Eventually I sensed movement in the Pace Arrow, the motorhome that would be our support vehicle at least until Monday. Suddenly the adventure stumbled to life. Coffee steamed. Bagels creamed. Before I knew it, we were posing for the sendoff photo ready to ride into the unknown.
     The fascination of beginning our ride with a 1.5-mile trek across the Golden Gate Bridge quickly became lost on more pressing factors: sizing up my partners and deciding just where I would fit in on the performance scale. Still, the bridge seemed to project an aura, a sense of victory over the elements, a strength that quickened the pace of my heart. I could only imagine how many drivers sat idle in the traffic jam with incredible envy, watching us leave them behind to endure another mundane day at the office. It seemed like we crossed the bridge in a flash. Indeed my partners were off to a little quicker pace than I would have preferred, but the adrenaline rush made up for any trouble. Typically it takes me an hour to warm up. Five minutes into the ride, I felt prepared for anything.
******
      Few cities display such a distinct personality as San Francisco, the Golden Gate Bridge just a colorful outfit in a wardrobe closet filled with more options than any socialite could imagine. From the Bridge through the Presidio, we rode in relative peace. The traffic jams were relegated to the major arteries. An uplifting parade through the energy of architecture is sacrificed for time by local commuters. Time is something firmly on my side, something to cherish.
      The San Francisco hills spark memories of the Mediterranean coast of Italy and that European flavor spiced up the morning ride. The only things that could be better than this would be tooling around Europe, although my American pride will put USA soil and scenery at the top of any list.
       The fog thickened before it thinned, and gave the city a calming feel, that we were welcome visitors not to be disturbed. The vast, abandoned early morning beaches boasted the abundance of physical beauty that the locals take for granted, much the same way we do in Southern California, or, for that matter, the way I used to do back in Wisconsin. For anyone with the time to appreciate it, the world is full of natural wonder. It's not to be seen through the windows of a car speeding along the interstate at 55 mph, but rather to be experienced, first hand, at man's speed, which I have determined has a maximum limit equal to that of a bicycle.
      It didn't take long to arrive in the smaller towns of the coast, to climb the hill outside Daly City, to get lost en route to Seaside and ultimately venture inland from Pacifica and face the ride's first climbing test. I'm not proud. I spent most of the morning behind Jeff and Dan, savoring the spot in the draft where energy is saved for such occasions as the hill. A moment of truth arrived. There is no hiding on a hill. It is man and machine vs. Mother Nature. There is seldom a human winner.
      The others quickly fell back, cranked their chains into easy gears and settled in for a long climb. My legs sported other plans, and in matter of moments I charged well in front, climbing alone like I always do, at a steady, rhythmic pace.
       After an hour of coastal brush at the start of the ride, the highway turned up the mountain into the shade of a vast evergreen cover. Soon the clouds burned away and the bright sun beat down, heating up the climb. I could only hope the rest of the climbing ahead, the endless up and down through the Coastal Mountains, would feel this satisfying.
      A rush accompanies hard work, a personal experience that can never been fully explained nor appreciated by a couch potato. There are moments when the sweat pouring down your cheek feels as soft and caring as a mother's hand. When the burning deep within your leg muscles feels like the warmth and security of a quilt on a winter morning. When each deep draw of breath fuels a purpose, and rings aloud like the roar of an engine screaming away from a stop sign.
      Just when you've finished running down that physical checklist to gauge your progress, confident in your triumph, you find the time to transcend to another level. To glance to the side down the rocky face of the mountain to a valley below wondering if some long lost wanderer years ago looked up the same cliff and wondered if man would ever appreciate a view from above, much less charge up there with the speed of a white tailed deer. To look at a cut of sandstone and recognize its uniqueness, like the first time you studied the wrinkles across your grandfather's face. To feel the cool shade of a towering tree and feel as though you are sucking in the fresh, clean oxygen as quickly as its green leaves can pump it out.
      The true beauty of being in top shape is the relationship with your own body. It's impossible to decipher the exact swirl of senses that make you know exactly when to drink and how much to drink, when to find food and when to wait. By the top of the hill my body screamed for sugar, and the comforting gap between myself and the others allowed for a quick stop at 7-Eleven for some Twinkies and donuts and a refill of water. At that moment, just three hours into the adventure, I realized everything would be fine. The base miles in my legs, even though they hadn't been called upon for 10 days, were ready and waiting for the journey and the challenge, like eager puppies sensing an owner's move toward the door.
      After we stopped for lunch with Jennifer and Denise, our support drivers, the excitement of the grand sendoff wore off and reality set in. The post lunch pace dropped considerably and making it to Santa Cruz, some 90 miles from our start, appeared questionable. Once again I slipped behind the others, not interested in the pace they were forcing. Just when we needed a break, we got one. Jeff got a flat.
      Jeff started changing his flat, something of a habit more than a ritual with him. On his trip eight years ago, he got three flats to every one from Bob. The only training ride we did together before this trip was prolonged by a flat, Jeff's, of course.
      As the feeling of idle work began to settle in, our spirits rose, reminded that this was going to be an adventure, and anything could happen at any time. As Jeff struggled with his tire a young woman rode up heading north and crossed the road to chat.
      "Are you the guys going from San Francisco to San Diego?" she asked enthusiastically.
      The reporter in me wanted to quickly set the record straight, that my goal was Carlsbad, some 30 miles short of San Diego, and the others would be happy to make Santa Barbara. But her smile seemed worth feeding, so the simple reply was an unconvincing, "Uh-huh."
      "Your camera crew is up the road about two miles," she said excitedly, acting much like Garfield's canine sidekick. "They took some pictures of me. They thought I was one of you."
       Before any of us could think of something remotely interesting to say, she jumped back in.
      "Are you guys trying to set a record or something?" she asked, having been privy to only our tire changing pace.
      At that moment Jeff offered an utterly blank facial expression. He knew the inner tube should fit into the tire, but it wasn't cooperating. It was a classic Butthead, "Huh?" pose.
     Oh, yeah, we're going for a record, I thought to myself.
     No, I told her, we're just trying to finish in one piece. That's when she went on auto-pilot, giving the Reader's Digest version of her autobiography. She just graduated from Cal, was taking a semester off before starting medical school to train for an ultra-distance race this coming weekend, a 508-mile killer ride through the Mojave Desert and Death Valley.
      She was riding a standard road bike with a banana and apple duct-taped to the frame that made her look more like some frightening temptress in a bicycle horror flick, and explained that for training purposes she takes this thin-wheeled creature on mountain bike rides with her friends, the cycling equivalent of saying she does one-arm pushups because she finds two-arm pushups mundane.
      Having covered the 508-mile race she spoke of when I worked for The Register, we struck up a little conversation about ultra-distance cycling that was dominantly one-sided with me following Jeff's impersonation with my own Beavis effort, "Yeah, Yeah, Yeah, Yeah." If nothing else, it made the time pass quickly, because it seemed like Jeff had his tire fixed in a flash, which was more like a half-hour real time. As she rode off the adrenaline rush she injected would certainly help us through the rolling hills ahead.
     We caught up with the camera crew at the base of a downhill, which meant Jeff would be in prime photo position. Jeff rides downhill like a wild man. Having done that once in junior high school, which resulted in an airborne flight that witnesses say took me 15 feet into the air and 20 feet out before crashing over my handlebars earning 15 stitches, I find my hands firmly on the brakes in most downhill situations.
      Slowly but surely, Dan fell off the pace. He hadn't been feeling good in the days leading up to the ride, and I knew his feeling of misery having experienced it just a few weeks earlier in Houston. A couple of times Jeff and I backed down to help give Dan some help in our draft. Eventually Jeff rode away up the road and I dropped back to help Dan.
       When we got to Davenport, 75 miles from the start, Dan and Jeff decided to hop into the motorhome. I cranked away with Sunset Beach my goal. There we would bed down in Jennifer's parent's beach house. I felt strong, no doubt boosted by the adrenaline. I figured the rest of the trip may be hell, but who cares. I was having one of those days where you feel like a God, and I wasn't ready to hang it up yet.
      I rode through Santa Cruz, confidently whizzing by traffic slowed by the rush hour. Just as I cranked around the corner to follow Highway 1, I saw the sign that makes cyclists want to scream. "Begin Freeway" "Bicycles, pedestrians or motor-driven cycles prohibited." About an hour later I rolled into some bike shop begging for directions to Sunset Beach. Some effervescent kid came from the back room. "I live out there. What do you want, the fastest route or the easiest?"
      Here I must submit for the masses that I inherited sweat glands from my father, who can have a spicy fork of horseradish make it look as though he's been chopping wood all day. The kid looked at me again. "The easiest, ooookaaaay ..." Eight miles later I hit the base of the final hill of the day, a short, very steep muscle-screamer. I made it to the top and never felt better.
     My excitement refused to wane. After a trip in town for pizza, the others were in bed by 9:30. I walked down to the beach (some 99 steps down the cliff) and sat alone listening and watching the waves crash beneath a full moon. I don't have a secret checklist hidden in the recesses of my memory, a laundry list of things I must do sometime in my life. If I did have one, I soaked in the euphoria of preparing to check off another; the kind of feeling one doesn't get to enjoy often. The only thing missing was Debbie, but somehow I knew she could sense how much this meant to me.
Categories: None
/