Shopping Cart
Your Cart is Empty
There was an error with PayPal
Click here to try again
Thank you for your business!
You should be receiving an order confirmation from Paypal shortly.
Exit Shopping Cart
| | |
| --- | --- |
| Posted by johnnieraz on March 13, 2021 at 12:45 AM | |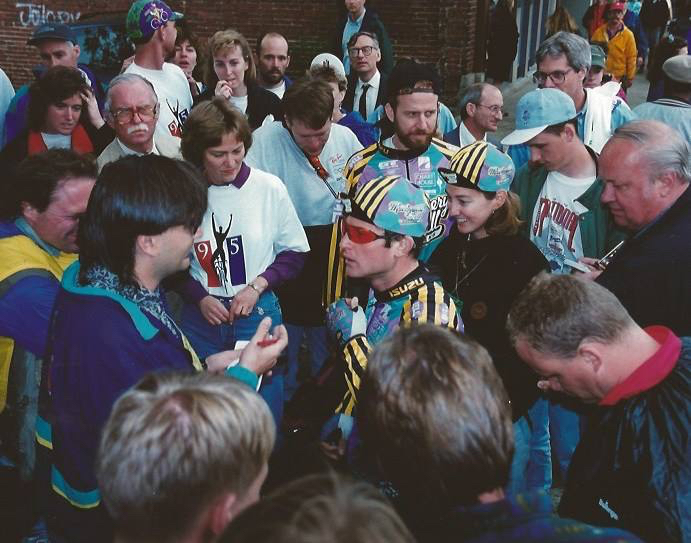 By John Rezell
     I arrived In Redlands that early March not sure what to expect. I quickly realized I was not alone.
     Many years had passed since the Redlands Classic Bicycle Race served as my introduction to professional cycling. Covering the event had become an annual love affair for me. I knew the locals, the riders, and the courses as well as anyone.
     This time would be different. Just a month earlier I became editor of VeloNews magazine. My relationship with most of the individuals in the cycling community began when I was a sportswriter for The Orange County Register. I left that post for a freelance career three years earlier to make cycling my focal point — my beat.
     I knew in my heart nothing had changed for me. Authenticity remained my guiding force, as it has since the day I figured out who I wanted to be.
     In preparing for my first assignment with this new title, I got a taste of how things could change.
     Felix Magowan, the publisher of VeloNews, is nothing short of a marketing genius. He never met a marketing opportunity he didn't explore. I learned that first-hand the day he walked into my office with an armful of VeloNews t-shirts.
     I fired a quizzical look at Felix as I thanked him for the welcoming gifts, and asked simply, "Why so many of them?"
     "Oh," Felix replied, "We all wear VeloNews t-shirts when we cover an event. It's part of our branding."
     A flood of images zipped through my mind of so many races over the years, each with me in my signature bright print Hawaiian/surfer/skater shirts and someone from VeloNews in a t-shirt surrounding some cyclist in an interview. Ah, yes, I guess they all do wear them.
     "Sorry," I said, "not me."
     Anyone who knows Felix might not believe this, but I rendered him speechless. He looked somewhat like a puppy the first time you throw a stick to play fetch. I could see the wheels spinning in his head searching for a response. After a long pause, he said, "But everyone wears them."
     "Cool," I said, "but not me."
     Felix then became pretty certain I was joking. He left the t-shirts and headed back to his office.
    I stuffed the t-shirts into a drawer in my empty filing cabinet and headed for Redlands, not thinking twice about my decision.
    When I got to Redlands I headed toward the team area — where team trucks, cars and riders form a little mobile village — I could see heads turn and eyes pop. The smiles that greet everyone at the first big race of the year warm your heart like no other..
    The team I knew best, who plied the streets of SoCal, was the Chevrolet-LA Sheriffs. As they showered me with congratulations on my new job I couldn't help but sense a feeling of relief not just wash over me, but cleanse them at the same time. Then Steve Hegg, the first professional cyclist I came to know, stepped forward and spoke for the peloton.
     "Great to see you," he shouted, "you had us worried."
    "Worried?" I said.
     "We all thought you'd show up in a VeloNews t-shirt," he said, "But it's good to know success didn't go to your head."
     I've been thinking a lot about authenticity lately as I search for my next career challenge. It has  been 11 months since I lost both my jobs to Covid-19 — my role as editor of an outdoors magazine as well as a substitute teacher.
     I yearn for another post as an editor. I love the creative experience, and inspiring writers, photographers and designers to hone their authentic voices. If I can only return to the classroom, my primary motivation remains the same. Find yourself and be yourself.
     My commitment to authenticity moves to the forefront this time of the year. I love watching the early stages of American Idol and The Voice, when singers begin their journeys original, raw and authentic.
     Starting a few years back, as each season progresses, I become less interested. I seldom watch finales.
     That's when I realized why. In most cases it's nothing more than watching each individual's authenticity getting whittled away, replaced by what's deemed as the formulas for success.
      I'm not much for formulas. Or t-shirts, for that matter.

Categories: None
/