Shopping Cart
Your Cart is Empty
There was an error with PayPal
Click here to try again
Thank you for your business!
You should be receiving an order confirmation from Paypal shortly.
Exit Shopping Cart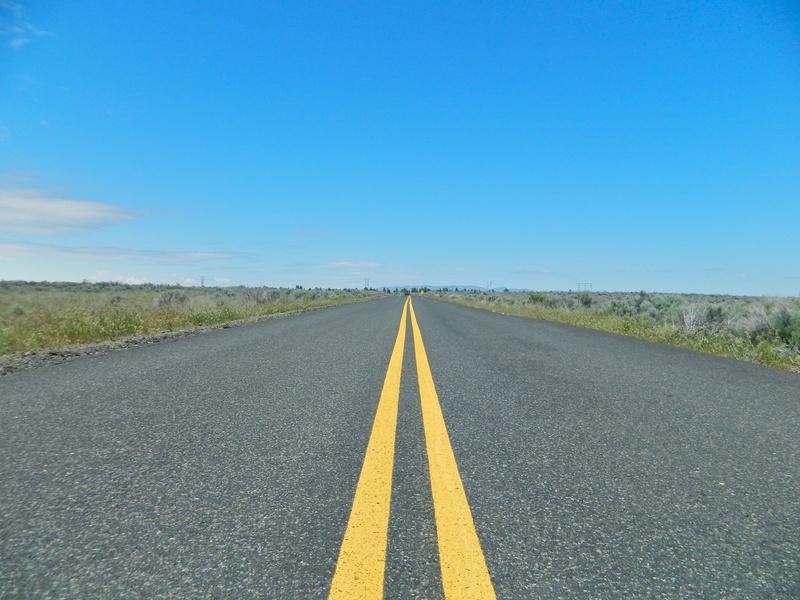 Editor's Note: So listen, it goes like this: An author offers an excerpt from a book so readers get excited about it and buy the book — not so readers get intrigued and email for said author to share more for free. But hey, I know, it has been a rough year or so, and if you haven't bought my book by now chances are slim I can find any way to change that. So, as requested by more than one avid reader/not-book-buyer/friend and/or family, here's the last day and a half of my San Francisco to San Diego bike ride (and if you want days 2-6, well, you just have to buy the book).

By John Rezell
     I didn't have a goal to start day 6, but as it wore on near 4 p.m., my goal became obvious. Make it past LAX before dark. I didn't want to start the morning trying to negotiate around one of the world's busiest airports. I've ridden around the airport before and I wouldn't suggest it on my worst enemy. I should have stayed along the coast through Playa del Rey, but NO! That would have tacked on another 5 miles or so. Instead, the course I took probably tacked on 15-20 miles. I've ridden in some heavy traffic areas, but suddenly I found myself being swallowed alive by traffic. Right near LAX, Highway 1 is Sepulveda Boulevard, which is famous to anyone who ever stayed up late listening to Johnny Carson tell jokes about Southern California.
      I confidently hammered south when I realized that the road morphed into four lanes of traffic and not much of a shoulder. That's when I noticed an entrance ramp to my right, and that disheartening sign prohibiting bicycles. I made a quick dash up the concrete embankment, not waiting for the next exit. I didn't want any part of this freeway business. I got to the top and headed south down another road. At the end I saw a toll booth, as if it was a LAX parking lot or something. I figured the attendant could help me out.
      As I approached the empty booth, a huge 747 jet taxied behind the booth, just 100 yards in front of me. Close enough to see the eyes of the co-pilot pop when he saw me. I almost took a turn onto the LAX runway! Seriously lost, I turned around, and found myself at the end of the terminal, looking down at a long string of taxis being filled by passengers carrying suitcases. I spent most of the next hour riding on the sidewalks, trying to find my way back to the coast. Eventually I made it, and bedded down in Hermosa Beach for the night. I found a motel with a kitchenette, so I was ready to pig out. I took a shower and started to head out to the grocery, first checking the mirror. Six days of riding gave me a raccoon tan, my eyes white from my sunglasses. Two days of growth on my beard. I knew I was going to be hassled by the cops for loitering. I could see myself heading down to the clink for being homeless. I decided not to spend a lot of time outside.
      I got back to the motel, made a huge course of spaghetti and garlic bread, and hit the sack. I woke up about 9 (having passed out around 7) and went out for peanut butter and jelly. That finally filled me up, and I passed out for the night.
******
      There was little doubt I had just one day of riding left, no matter how far I made it. From the moment I climbed on my bike in the morning my uncomfortable butt and sore knee made it obvious that wherever I ended today would be it, even if it meant having Debbie come rescue me. I did my best to ignore the pain that steadily increased in my knee. It hurt the last half of the day Monday with Jeff and Dan. It hurt most of yesterday, fading in and out of my attention span.
      The first business of the day felt uplifting. I couldn't carry the peanut butter, jelly, cheese and bread with me, so I went in search of someone looking for food. I found him sitting on a bench in a park in Redondo Beach. This ritual coincided with returning to Southern California. For the past six days there was nary a sight of a homeless person. It took less than five minutes to find my first of the morning. After a while it's easy to become immune to the homeless, which is a sad fact of life in Southern California.
      The moderate climate and some of the highest benefits in the US draw them to San Diego. I know because I helped Pop write a term paper on the subject. We spent a day touring the streets of San Diego with a camera in hand, interviewing the homeless, learning first hand the hopelessness they endure each day.
      Their life is a Catch 22. To get out they need to get a job. To get a job, they need to have an address. The scariest thought is that there is no turning back. There were men we talked to who spent their last pennies traveling to San Diego thinking life would be better here. When they found it was just as bad, possibly worse than where they came, there was no money to go back.
      The saddest part was seeing the shame in their faces and hearing what little bit of pride they had left as they explained how special it made them feel to have someone actually talk to them for a change instead of turning the other way. It pains me to say so, but I have turned my head on occasion. The truth is, you could go poor giving each homeless person a dollar any time you pass one. In any event, I made one man happy for one day and I'm sure he shared the wealth of food with his friends.
      That didn't do anything to alleviate the pain in my knee. I took a couple of Advil and resigned myself to an easy, slow pace, figuring the moment it got to be too painful I'd just stop right there and wait for a ride. By focusing all my attention on my knee the first hour I made a critical error. I got lost on the Palos Verdes peninsula. Then I hit a detour and had two choices. Ride straight uphill over the peak of the peninsula or turn around and make a 10-mile detour around it, with no guarantee that the detour wasn't just as hilly. Up the hill I went. Then down the hill I went.
       That left me smack in the kind of neighborhood most people say you should try to avoid in LA, an ethnic neighborhood near Long Beach. When I have my druthers, I prefer Hispanic neighborhoods because there is a family air around them. I'm sure they give people like me a false sense of security, but when I see kids running around the neighborhood with mothers and fathers, I feel safe. Strange thing is, you don't even see kids out in the nicer neighborhoods in Southern California unless they are Hispanic barrios. Go figure.
       In any event, I was in an area that I really shouldn't be in, so I had to pick up the pace a bit, not an easy task on a sore knee. I made it to the beach and Long Beach, which meant a nice breakfast. It also meant about 70 miles remaining to Carlsbad, most of it along the beach. That I can handle.
      There's something about the Pacific Ocean that brings out the best in me. Maybe it's the large body I water I needed to replace Lake Michigan, having grown up in Milwaukee among the Great Lakes. I believe I lived in California in another life. Too many things here seem familiar and comfortable at such a deep level. Still, whenever I need to be motivated, all I need is a walk along the beach and before I know it, I'm practically running home to get going on my latest project. That feeling returned particularly strong as I hit the areas I've ridden before, along Huntington Beach, through Newport Beach, Laguna Beach and San Clemente. It's a little scary, but once I reached Dana Point, I knew I had 40 miles remaining, and my attitude was simple: I did it, the ride is over.
      I cruised through San Clemente and Camp Pendleton as I have hundreds of times in the past eight years, but this time, instead of dreaming of someday riding a long tour down the coast, I clicked through a flood of memories of the past week. Somehow I forgot about my knee and I felt as though I'd been riding seven minutes, not seven hours. Before I reached San Clemente my mind turned into silly putty again. I coasted down a hill, leaning to the side to keep my rear off the seat because it felt as though my shorts were filled with broken glass. I kept the pressure off my right knee, leaning heavily on the left. My mind thought, "I guess we should try to match our usual time from San Clemente to Carlsbad."
      Never mind that any other occasion is the second half of a 60-70 mile ride and this was the end of a 600-700 mile ride. Then I looked down at how I positioned my ass on my bike and laughed. Just making it would suffice. When I cruised into Carlsbad just five minutes off my fastest time, I realized the adrenaline rush pumping through my body.
      It felt like coming home after being away for years. Sights that were mundane scenery a few days ago took on new life. The sun shining brightly. The ocean glowing. Life was grand. I stopped along the beach and looked out over the same stretch of sand that has drawn me here over the years, the same parcel where I wondered what our future out here would hold, whether or not we had made a good decision or a poor one coming here in the first place. As usual, the answer from within sizzled with obvious affirmation.
      I found a retired couple standing a few feet away, enjoying the view. I asked if they'd watch my bike while I jumped in for a quick dip. I explained I hit the climax of a week of riding, and they agreed, looking more surprised at my proposal than my accomplishment. The water felt warm and refreshing. I looked around at the dozens of surfers bobbing in the water, the herd of tourists walking along the beach and I realized none of them knew or cared about explosions of fireworks popping in my stomach and head. Just another day in paradise. Life goes on. The only difference is there's one less goal on my list, which makes room for a new one.
Categories: None
/