Shopping Cart
Your Cart is Empty
There was an error with PayPal
Click here to try again
Thank you for your business!
You should be receiving an order confirmation from Paypal shortly.
Exit Shopping Cart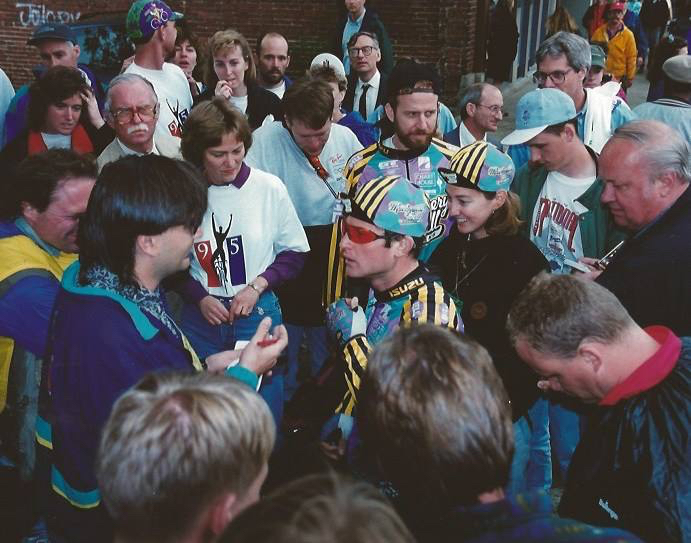 Me and my mullet interviewing Clark Sheehan after his amazing breakaway victory. Copyright photo by John Rezell

EDITOR'S NOTE: My brother faces some challenging days ahead, so I thought I would revisit this excerpt from my book "A More Simple Time: How Cycling Saved My Soul" to remind him, and any others, about the amazing power of the human spirit.

By John Rezell
     Never again.
     Imagine hearing those words flowing from someone's mouth who you are programmed to believe — someone who supposedly holds the answers to so many of the secrets of the human body. It's as though Doctors spit out those words on a daily basis, these days becoming almost as common as the phrase "take two aspirin and call me in the morning."
      The average person puts a huge degree of faith in the words of a Doctor, at least in Western medicine. I can only wonder how many spirits have settled for less or began their countdown to the end of life as they know it after hearing such a phrase. Yet, the world is filled with contradictory evidence. No where is that drama of proving the establishment wrong more visible than the field of athletics.
      The average person may believe that athletes have a better chance of defying the odds because they are physically in much better shape than most. There is little doubt that has an influence. But most athletes share a trait that others can have — and can learn in a matter of seconds — that probably has a bigger influence on the outcome of a recovery. It's the ability to basically believe in yourself, believe in your body, and believe your inner voice. It is the ability to know that you hold the key to your destiny, and what some Doctor — or anyone for that matter — might say doesn't mean squat.
      Think of life as one massive experiment. Think about being a kid, and experimenting with a fly. You catch it, throw it against the wall, and see if it survives. If it does continue to wander around somewhat stunned, you up the ante. You yank off a leg, or a wing, then another, and another. And you see that the will to live, to continue, instilled deep inside every living thing. Cover a seed with a rock, and the plant emerges from the edge. Nip off a few leaves, and others appear.
      Everyone faces different challenges. Everyone tackles them differently. Here is a salute to another one of those I've had the honor of knowing, someone who knows the only voice to listen to is the one that screams from deep within.
     To know Clark Sheehan is to feel the unbridled human spirit. In a previous life he must have been a wild Mustang blazing through the wide open spaces of the American West. The zest for fun — read that as the powerful energy of life — that we all have as children has never subsided in Sheehan, not one bit. As a young man you can still see the boy who would run to the local bike shop in Boulder, Colorado, once, twice, sometimes three or more times a week, with a pocketful of a change. He would plop it on the counter as down payment for the bicycle of his dreams. He would ask how much more he needed to have before he could ride his magic steed. Then he'd go out and find a way to refill that pocket with change.
      Of all the sports I've covered, I believe the commitment to excel in cycling is second to none. The hours of training exceed anything, and nothing is as harsh or demanding on the body. It can be a deflating experience for the soul to some. To others, it is the fuel of life. Sheehan is one of those.
      I got to know Sheehan in my first few years covering cycling — first seeing him in that amazing Russian breakaway at Redlands — and always enjoyed the fevered pitch of our encounters. If you didn't leave a conversation with Sheehan wanting more out of yourself and life, you weren't paying attention.
      Because of that, the goosebumps on my neck were double and triple thick as I watched him ride off alone into the fog of a North Carolina mountain in May of 1995.
      Sheehan will proudly tell you that he grew up in Colorado with photos of top European cyclists hanging in his locker at school, dreaming of someday winning a major stage race with the panache and flair of Gianni Bugno or Laurent Fignon.
      "I'm a cycling junkie," Sheehan said, time and time again, always following it with his infectious giggle. "What can I say?"
      So when it came time to take a shot at his dream in the cold rain and fog just a half mile from the summit of Bull Gap during Stage 8 of the Tour DuPont, with the top sprinter in the world, Novell's Djamolodin Abdujaparov, covering his every move, Sheehan attacked with every ounce he could muster.
     "I knew I had to attack before the top of the climb," Sheehan said. "After that, I just gave it everything I had."
      Nine miles later, Sheehan slipped across the finish line alone, a mere seven seconds ahead of second-place Andrei Teteriok of AKI-Gipiemme, a paltry 10 seconds ahead of third place Laurent Madouas of Castorama and a precious 19 seconds ahead of the charging chase group of eight. He collapsed into the arms of his wife, Sandy, and one can't even begin to imagine the thoughts that flooded their minds and overflowed their eyes with tears.
      The cycling historian in Sheehan knew he had become the first American other than Lance Armstrong to win a stage at DuPont since 1993. He also knew the 115 miles he spent away from the field was the longest successful breakaway in DuPont history.
      Sheehan wiped some tears away from his eyes after his endearing hug, threw his head backward, burst into a wide smile and stuck his tongue out like a tired puppy.
     "Oh my gosh," Sheehan said, his voice cracking with his contagious youthful enthusiasm. "This is unbelievable. Finally the finish line came! It took forever!"
     The same could be said of Sheehan's comeback from a near crippling injury in February 1993.
     Sheehan suffered the worst injuries of a dozen cyclists hit by a drunk driver during the Tour of Mexico. Trapped between two crumpled vehicles, Sheehan had a compression fracture of three vertebrae.
     Doctors said he would never race a bicycle again.
     "Yeah, right," Sheehan said basking in the glow of success in Asheville. He would pause and look at the crowd, the banners, the vendors, the sky. He would listen to the cheers, the P.A. announcers, the honking horns. He savored the moment like someone who knows just how precious each breath of life can be.
      Just 12 miles into the 127-mile stage that included four major climbs, Sheehan, Abdujaparov and Ukraine's Anatoli Chubar escaped from the field. The experts picked this as one of those throw-away days of a tour. The day before the back-breaker to Beech Mountain. Perfect for someone willing to take a risk.
      Chubar dropped on the first climb, but Abdujaparov stayed with Sheehan for all but the final nine miles. All in all, Sheehan spent five hours and 20 minutes riding on a breakaway. The duo's biggest lead was 15:30, at just after the mid-point of the race.
     I spent the day covering the stage in a car with Steve Brunner, the media director for the Tour DuPont. Without the usual banter in the press van, there was more time to just sit and soak in the experience. Five hours. That's a long, long time to wonder what the rest of your competition is thinking. That's 300 minutes to wonder if you made a move of a lifetime, or a silly mistake that you'll have to explain to reporters afterward, and debate in your mind for, who knows, maybe forever? In the thick fog of the mountains, you could only imagine what was going through Sheehan's head, over and over.
     To the layman, a 15-minute lead may seem like an eternity. A true eternity is how time slows when that lead begins to disappear in chunks too quick to fathom. The chase was magnificent. First the main group cranked it up. Then an assault group launched like interceptor missiles. Up and down the mountains, Sheehan had to wonder as the time gaps vanished. Are the chasers still that strong? Or am I now that weak? In cycling there is an adage, "out of sight, out of mind." When Sheehan went way up the road and disappeared, the group may have forgotten about him. With the finish fast approaching, the small chase group smelled blood in the water — the chance to steal away a stage win from a tiring rider. They came oh, oh, so close to catching him. They could see him on the finishing straightaway. Imagine, five hours out there, and winning by seven seconds.
     One-one-thousand.
     Two-one-thousand.
     Three-one-thousand.
     Four-one-thousand.
     Five-one-thousand.
     Six-one-thousand.
     Seven-one-thousand.
     That's it, that's all. The difference between a dream and a nightmare.
    "I just wanted to go for it," Sheehan said. "It's like a dream come true. Abdu, he's incredible. It was like living a dream, spending all day with one of the best racers in the world. I just don't know what to say."
     Just then Montgomery Securites president Tom Weisel appeared. Weisel, owner of the Montgomery-Bell team, had promised a free ride in his Ferrari to any DuPont stage winner earlier in the year. Sheehan smiled when he saw Weisel, and laughed, "Where are the keys?"
END EXCERPT

Categories: None
/