Shopping Cart
Your Cart is Empty
There was an error with PayPal
Click here to try again
Thank you for your business!
You should be receiving an order confirmation from Paypal shortly.
Exit Shopping Cart
| | |
| --- | --- |
| Posted by johnnieraz on November 14, 2020 at 1:45 AM | |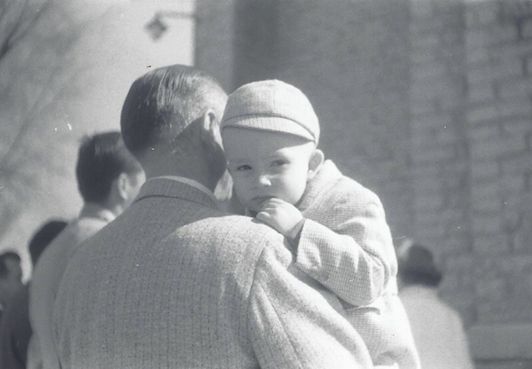 By John Rezell
     The true magic of Mother Nature springs to life while I spend countless hours outdoors, hiking and biking. Vast breathtaking vistas, deep breaths of fresh air and overwhelming silence transport my mind to a magical place.
      There, I often ponder my greatest question in life. No, it's not the meaning of life. It's simply, how did I become the person I am today?
     When I probe deeply, I vividly remember people. I see faces, and relive specific examples of how those individuals left a lasting impression upon me. How it helped create me.
     Of course, my two greatest influences were my parents.
     My Dad's artistic talents awed me.
     As an architect, he could draw anything, often sketching funny notes to crack us up.
     He took up watch repair because of his fascination with mechanics, and combined it with his woodworking skills to make amazing clocks.
      Later he began to whittle, and created a world of tiny characters that showed off his offbeat humor — like the doctor who operated on a woman holding his big saw next to that woman whom he put back together backward, the lady lifting the front of her dress to show her behind and back of her legs and feet.
      Eventually he dabbled with working on leather, too, creating belts, wallets and even beer bottle holders for your belt.
      But my Dad couldn't write very well.
     So, when I showed a penchant for the written word back in grade school, my Dad jumped at the opportunity to encourage me. He paid me for anything I would write — a penny for every five words.
     I wrote all sorts of stuff — some short stories, poems and essays. That led me to start my own sports magazine that I distributed to a few relatives and neighbors, hammering on a typewriter hard enough to get through five copies of carbon paper to write stories about games in our Electric Football League, the Green Bay Packers and Milwaukee Bucks.
     My Dad confided in me that he struggled with any type of writing. He agonized over putting together a sentence or two.
     When I graduated from college with a degree in Journalism, he reminded me of that. He said the ability to write is a God-given talent, like being musical or athletic or artistic, as he was.
     Without question, my Dad had a major influence on my life. So did my Mom. And so many others, too.
      A few years ago when I began writing my trio of memoirs, I began to pen Thank You letters to the individuals who have made a significant imprint on my life.
      Now I've created a compilation of those letters in a small book, A Bucket List for Thank Yous.
     The primary purpose of my Thank You letters is to honor those who have made a significant impact in my life.
     But almost as important to me — to honor my Dad and help out those who might be like him — is offering this book or an individual letter to those who can't write well. Those who search for a voice and a way to thank others.
     If you have someone in your life you want to thank, but have never been able to find the words to say it, send them a copy and tell them which letter best describes your feelings or relationship.
     As we endure this challenging year of 2020, we have the Thanksgiving season to reflect on our lives and offer thanks.
     EDITOR'S NOTE: At this point the ebook is available on Smashwords.com. It will soon be available on a number of websites including Amazon.com, BarnesandNoble.com and iTunes.

Categories: None
/