Shopping Cart
Your Cart is Empty
There was an error with PayPal
Click here to try again
Thank you for your business!
You should be receiving an order confirmation from Paypal shortly.
Exit Shopping Cart
| | |
| --- | --- |
| Posted by johnnieraz on December 19, 2020 at 5:35 AM | |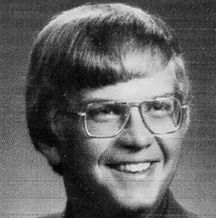 EDITOR'S NOTE: This is an excerpt from my ebook A Bucket List of Thank Yous, a series of Thank You essays to people who have helped make me who I am today.
     By John Rezell
     If you're really lucky in life, you'll cross paths with someone who really understands who you are, deep down to your soul. If you're super lucky, you'll meet them early in life, when they have the opportunity to make a difference.
     My stars aligned when I met Jake.
      I can't remember the day I met Jake. Or the first time I saw that bright, mischievous smile followed by his deep chuckle. I just remember countless miles in White Lightning, his Monte Carlo, plying the roads of Brookfield, Elm Grove and beyond singing to our own private tunes with endless laughter.
     Jake saw me, and most people, for who we are. For better or worse I can't remember him making any serious effort to change or alter who I was. No probing to figure out why I was who I was. He just accepted me.
      We shared some quirky traits and elements of our personalities that we weren't necessarily proud of, nor ever really exposed to others, but they formed the foundation of a friendship that I cherished as much as any I've had the pleasure of experiencing in my lifetime.
      I could spend days telling tales of our adventures, which nearly 100 percent of the time included beer or spirits — even our days working together as security guards for Summerfest.
      Although sometimes years went by without us getting together, when we would reconnect, the time between would fade to nothing.

     It pains me that I couldn't make it to his funeral, to say goodbye. But then again, we've never really parted.  

      And so it continues, to this day. So often a song, an image, or just a random memory popping out of nowhere, will bring Jake back into my life.
     His smile as bright and mischievous as ever.
     His chuckle as deep.
     Thanks, Jake.
     We sang a song …
Categories: None
/